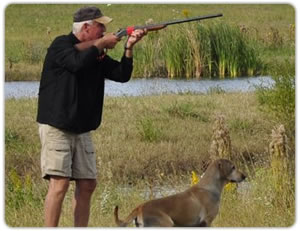 Turtle Creek Lab's Retriever Training Programs

Turtle Creek Labs is proud to offer professional retriever training.  We limit the number of dogs in our training program so that we can be sure that we are giving all of our dog's quality training time.  We have access to thousands of acres of top quality training land with cover and terrain changes along with specially designed ponds that will challenge any level of dog.  All dogs are worked with a regular schedule on a year-round basis.

Every dog matures and learns at a different pace, the following is a general guideline as to training time.

Obedience Training
Basic Obedience (SIT, HERE, 2 SIDED HEEL, )
Force Fetch & Collar Fetch
Collar Conditioning
Marking Drills
Intermediate Training
Force To Pile
Whistle Sit
3 Hand Casting
3 Leg Pattern (Land/Water)
Swim-By & Water Force (Cheating Singles)
Pattern Blinds (Land & Water)
5 Leg Pattern
Wagon Wheel Lining Drills
Marking Drills (Simple Doubles)
Steadiness Drills
Advanced / Hunt Test
Advanced 5 Leg Patterns
Diversion Birds / Poison Birds
Marks & Blinds Combined
Advanced Marking Drills (In Lines, Converging Marks)
Advanced Blinds
Marks & Marks & More Marks (80 % Singles & 20 % Multiple Marks)
Consultations  - $ 35 per hour (plus birds)
Client Information
All dogs are required to have current vaccinations including Bordetella (Kennel Cough).
All dogs must have proof of negative test for heartworms.
Charges for Veterinary services are billed directly to you.
Trips to the Veterinary office will also be billed monthly.
Clients are required to fill out and return: 1) Training Contract 2) Client Information Form.
You will be billed on the 20th of each month with payment due by the first of each month. The bill consists of training fees, entry/handling fees.  Late fee ($ 25.00 per week)
You are to pay for the first month at time of delivery.
You will receive a monthly evaluation describing your dog's progress, as well as his strengths and weaknesses.  We encourage owner participation.
Billing
Monthly training fee
Handling Fees
Entry Fees (AKC Hunt Tests/Field Trial)
Live Birds (Ducks $ 14.00 Each)
Heartworm Preventative - $15.00 per month
Frontline Plus - $15.00 per month
***All Prices Effective January 1, 2013
For more information on any of our retriever training services please call us at 302-814-0239