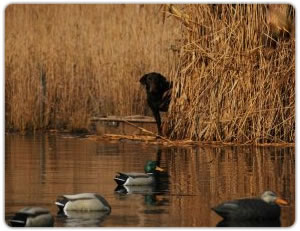 Turtle Creek Lab's  Intermediate Training Program

Turtle Creek Labs is proud to offer professional retriever training.  We limit the number of dogs in our training program so that we can be sure that we are giving all of our dog's quality training time.  We have access to thousands of acres of top quality training land with cover and terrain changes along with specially designed ponds that will challenge any level of dog.  All dogs are worked with a regular schedule on a year-round basis.

Every dog matures and learns at a different pace, the following is a general guideline as to training time.
Intermediate Training
Force To Pile
Whistle Sit
3 Hand Casting
3 Leg Pattern (Land/Water)
Swim-By & Water Force (Cheating Singles)
Pattern Blinds (Land & Water)
5 Leg Pattern
Wagon Wheel Lining Drills
Marking Drills (Simple Doubles)
Steadiness Drills
***All Prices Effective January 1, 2013

For more information on any of our retriever training services please call us at 302-841-0239